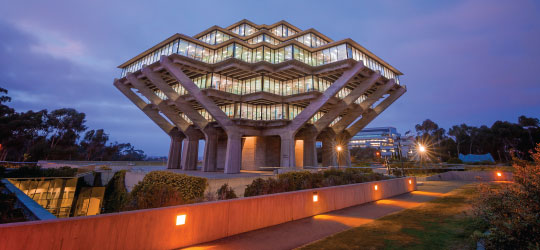 Outdoor Lighting Safety
Annual Lighting Survey
Each winter, Environment, Health & Safety, Facilities Management and the UC San Diego Police Department partner with CARE at the Sexual Assault Resource Center to conduct campus lighting survey walks. Representatives from Transportation Services, Residential Life, Housing * Dining * Hospitality, Scripps Institution of Oceanography, Campus Planning, Libraries also participate in the annual lighting survey.
Teams walk the entire campus searching for possible safety hazards and other potential concerns. Four separate walks, target specific campus areas:
Main campus, including the School of Medicine and Skaggs School of Pharmacy
Main campus residential housing areas
Mesa, One Miramar and Coast housing
Scripps Institution of Oceanography
Safety Improvements
The Facilities Management lighting team is systematically replacing all low-pressure sodium (yellow) street and parking lot lighting with LED bulbs. LEDs provide white light for increased safety and security at night in addition to using less energy, lasting longer and requiring less maintenance.
Interior Building Lighting
UC San Diego works diligently to conserve energy by limiting interior building lighting at night. However, during the Coronavirus pandemic, interior lighting remains on in many buildings to help ensure public safety and security.
Lighting Concerns
We ask that all concerns include specific information about the location. The walks will address only exterior concerns, and we review all submitted comments during the walks.
You can report lighting concerns by: