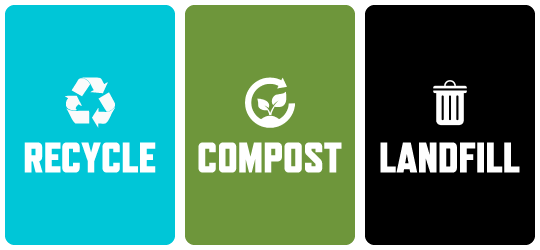 Zero Waste
UC Commitment
Achieve zero waste (defined as 90 percent diversion from landfill) at all locations except UC Health locations, which will have separate waste reduction goals.
Highlights
The Housing*Dining*Hospitality digester at Sixth College aims to reduce food waste by over nine tons annually.
In accordance with the Sustainable Practices Policy, University of California campuses are to phase out and eliminate plastics. Plastics contribute to over a third of UC San Diego's waste stream.

As part of the first phase of the policy, UC San Diego is working to eliminate plastic bags in retail and foodservice. Three years ago, the Sunshine Market, Bookstore and Audrey's Café proactively eliminated plastic bags, switched to paper bags and plans to move to reusable bags.
In summer 2021, all single-use plastic cutlery will be eliminated.
In 2023, all UC campuses will no longer have single-use beverage bottles.

Total waste generation returned to pre-pandemic levels. Total waste diversion decreased by 6% to 42% in fiscal year 2020–21 compared to the previous year. The most significant factor was total waste generation increase of 48%. Programs such as green waste services and Surplus Sales had a lower positive impact this year.
In June 2022, the MESOM Kitchenette at Scripps Institution of Oceanography was stocked with reusable dishware purchased from The Goodwill, along with a new dish drying rack, reusable dish cloths and a compost bin to encourage building occupants to reuse whenever possible, especially to support zero-waste events and meetings.
In fall 2022, the Student Sustainability Collective opened a food scrap drop-off site at Seventh Market and distributed personal food waste collection buckets to students to make composting more accessible. Volunteers transport the waste collected at Seventh Market to Ellie's Garden where ERC student gardeners compost it. This small-scale pilot program is diverting 40 pounds of food waste from the landfill every week. In 2023, this pilot expanded to Canyon Vista Marketplace where roughly 32 pounds of food waste is diverted per week. Sites are being researched to expand to more colleges.
Ongoing Efforts
See UC San Diego's Zero Waste Plan.
We are:
Reducing municipal solid waste generation to:

25% per capita from 2015/2016 levels by 2025
50% per capita from 2015/2016 levels by 2030

Striving to divert at least 90% of materials from landfill or incineration through recycling, composting, anaerobic digestion, etc.
Phasing out the sale, procurement and distribution of Expanded Polystyrene (EPS):

Ensuring that no EPS food serveware is used on campus (e.g., cups, clam shells, plates, etc.)
Working with suppliers to phase out EPS packaging for non-temperature sensitive products (e.g., office supplies, electronics, furniture, etc.)
Reducing, reusing and finding EPS alternatives for lab and medical packaging

Estimating greenhouse gas emissions from waste management practices
The UC San Diego Health System follows the Practice Green Health metrics and is aiming for 20 lbs. of total solid waste per Adjusted Patient Day (APD) by 2025.
Waste Sorting at UC San Diego
All recyclable materials can be placed in any campus recycling container, including office bins.
Mixed paper – without bindings, rubber bands or paper clips; staples don't need to be removed.

Any type of paper, including envelopes, sticky notes, wrappers, newspaper, manila folders, boxboard (e.g., cracker or cereal boxes) and corrugated cardboard
Magazines, phone books and paperbacks

Empty containers

Glass, steel and tin containers with lids removed
Paperboard beverage containers
Plastic bottles, containers and lids with the #1-7 recycling symbol on the bottom
Aluminum cans and clean foil
Be sure to:
Keep all trash out of recycling containers.
Flatten cans, plastic bottles and cartons whenever possible.
Empty and flatten all cardboard boxes before placing them inside recycling containers. Do not leave boxes near bins, dumpsters or on loading docks.
Empty liquids and food scraps from containers and ensure that they are clean and dry.
See how EDCO sorts items placed in recycling bins.
 UC San Diego is implementing an organics recycling program. We expect that organics recycling will help us divert more than 1,000 tons of campus materials from landfills annually. Collected organic material include:
Food scraps (Some campus gardens accept food scraps.)

Raw, cooked or spoiled: 

Meat, poultry and seafood (including bones)
Fruits and vegetables
Cheese
Dairy products
Grains, pasta, bread and baked goods

Eggshells
Coffee grounds, tea bags and tea leaves
Nuts, jelly, candy and snack foods

Food-soiled paper

Paper bags, towels, napkins, plates, cups, take-out containers and boxes (with no plastic or wax coating and metal removed)
Coffee filters
Tissues

Natural fibers

Wooden Popsicle sticks, toothpicks, chopsticks and stir sticks
Untreated wood
Be sure to:
Keep all trash out of compost containers.
Remove all plastics/bioplastics.
Note: Before purging paper files or generating large amounts of paper or beverage containers, contact the Facilities Management Customer Relations help desk, (858) 534-2930, at least 48 hours in advance to get a large temporary recycling container.
Other Recyclable Materials
Carbon paper
Soft and small plastics:

Shopping bags, wrap, film, snack bags and wrappers
Straws
Utensils
Disposable toiletries

Mixed materials:

Wax- and plastic-coated paper
Coffee pods
Fabric, string, yarn and rope
Masks
Uncontaminated latex gloves
Sponges
Adhesive tape
Ceramic items
Treated wood

Styrofoam packing peanuts, food clamshells, plates, cups, etc.
Paint brushes, colored or wooden pencils
How to dispose of:
Batteries:


Students living on campus can take batteries to their Residential Life Office for disposal.

Ink and toner cartridges
Pens, markers (dry erase, highlighters, etc.) with or without caps and mechanical pencils
Mail Services consolidates and ships used writing instruments to TerraCycle, where they are transformed into fun, innovative products. You can upcycle your used writing instruments by placing them in an Intercampus Mail envelope labeled "used pens."
Other items: Visit earth911.com.
Questions?
For more information about recycling or to report problems, contact the Facilities Management Customer Relations help desk, (858) 534-2930, 7 a.m. – 4:30 p.m. weekdays.